Cuprinol Ducksback
An advanced, wax enriched and non-drip formulation, specifically designed for decorating and weather proofing sheds and fences (rough sawn wood).
5 years protection
Plant and pet safe
Shower proof: 1 hour
Drying time: 2-4 hours (All coats must be applied within 48 hours of each other otherwise wax will act as repellent)
Coverage: Up to 6m2/Litre
Osmo Anti-Slip Decking Oil
A clear, satin finish coating for decking, can be used on it's own or over existing decking stains to add anti slip properties.
ntains a special highly compressed organic non-slip granule
Natural wood character remains visible
Drying time: 12 hours
Coverage: 24m2/Litre
Cuprinol Garden Shades
Specially developed to colour and protect sheds, fences and other garden wood. Its special pigments ensure a rich colour and allow the natural texture of the woodgrain to shine through.
6 year protection on wood
Matt finish
New colour 2023: Herring Grey
Drying time: 1 hour
Coverage: 2-12m2 (surface absorbency dependent)
Cuprinol UV Guard Decking Oil
A penetrating oil to replace natural oils and resins lost through weathering. Revitalises the colour of weathered decking timber.
Nourishes and protects
Available in 3 ready mixed colours
Drying time: Up to 6 hours
Coverage: 4m2/Litre
All your favourite brands
Water Based Products
Professional performance finishes, with all the benefits that water-based brings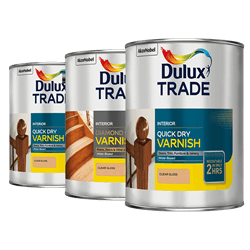 Garden & Landscape project solutions