Professional paint brushes and paint rollers
Whether you're a professional decorator or repainting your own home, you need the right tools for the job. We offer a range of paint brushes and rollers to cover every project you can think of. Pick up a paint roller and give the room you're working on a smooth, even finish in no time. Then, grab your paint brush and make a perfect job of the finishing touches.
Brushes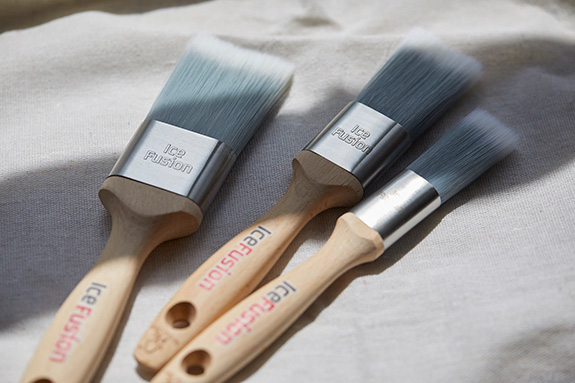 Find a paint brush to suit every surface,from interior walls, ceilings and doors to exterior masonry, wood, and metalwork.
Shop all brushes
Rollers

Whether you're working inside or out, on a smooth or textured surface, we've got the perfect paint roller for you.
Shop all rollers
Trusted brands
We stock 1000s of products trusted by professional decorators. Discover paint brushes and rollers from top brands like ProDec, Hamilton, Purdy, Painter's Pack, Pioneer and Dulux Decorator Centre.
Tips and advice
Wondering whether to use a paint brush or a paint roller? You'll find tips and advice on all kinds of decorating questions on our resources page.
FAQs

Popular categories
From large paint brushes and rollers to small cutting-in brushes and mini-rollers, you'll find the right sized tool for your project here – whether you're working with paint, stains or varnishes.
Professional paint brushes and rollers for every project
When you're painting a room, or even an entire house, it's important you have the right tools for the job. So, as well as Dulux paint, you should use a selection of professional paint brushes and rollers.
For painting both interior and exteriors walls, and ceilings, paint rollers give you an even finish in much less time. Choose a foam paint roller for smooth surfaces and a long pile microfibre paint roller if you're working on textured surfaces, like exterior masonry.
Then when it comes to painting things like doors, skirting boards, furniture, or bannisters, choose a set of Dulux paint brushes specially for the task in hand. Get some large, small and angled paint brushes so you can paint the full surface first, then do the cutting in and finishing touches to a really high standard.
To make things easy for yourself, put together a kit containing all the tools, paint brushes and rollers you'll need to cover a variety of decorating jobs.