Positive, vibrant educational spaces are more conducive to learning. Spaces should promote productivity and aid concentration, while being comfortable and welcoming for students and teachers alike.
Our consultants and specification teams can help you specify with confidence – from tailored colour palettes that inspire teaching and learning, to specialist paints that meet hygiene requirements, as well as helpful online tools.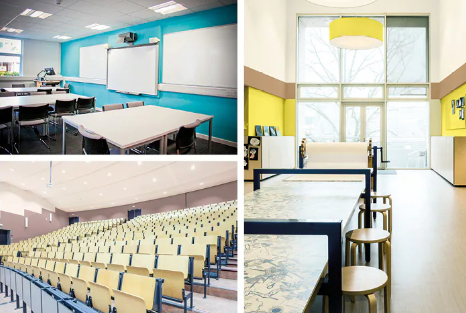 We're here to help you
The colours you select play a vital role in helping students and teachers thrive. Our Commercial Colour Consultants can guide your colour scheme selections when transforming schools, colleges, and universities.
Education environments should also be resilient to day-to-day wear and tear, and regular cleaning. Our durable paints deliver long-lasting performance, including the scuff-resistant Dulux Trade Diamond range, plus specialist products that help reduce the risk of infection, in line with appropriate cleaning practices.
Together with our industry-leading, evidence-based classroom design principles we can help you create spaces that enhance the experience for both students and teachers.