Professional paint brushes for a perfect finish
For a perfect paint finish, you need the right paint brushes. We offer a wide range of professional paint brushes to cover each aspect of the job – from touching up to cutting in. Assemble a paint brush set including everything you need... a natural bristle brush for solvent-based paints, synthetic paint brushes for an even finish with water-based paints and small paint brushes for getting into those awkward nooks and crannies.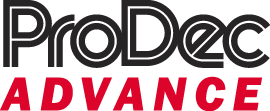 ProDec Ice Fusion Synthetic Paint Brush
Shard Filaments for ultra-smooth loading and release. Form Recovery Technology gives an ultra-sharp cutting line and maintains the brush's shape after washing. Seamless ferrule so no paint or wash water collects inside the brush. FSC wood handle.
Available in: 1″ 1.5″ 2″ 3″
Choose size
View all products
Trusted brands
We stock professional paint brushes from brands that have been trusted by pro-decorators for years, including ProDec, Hamilton, Purdy, and Dulux Decorator Centre.
Popular categories
Sometimes you need a specific tool for the project you're working on. We give you a wide choice of natural and synthetic paint brushes, from large-headed to small paint brushes as well as angled paint brushes for cutting in.
FAQs

What is a cutting in brush?

"Cutting in" is the stage of painting where the edges (between 1" to 3" inwards) of a wall are painted first (so you can then roll close to the edge without worrying about bumping the adjacent surface (such as the ceiling) with the roller.

Cutting in brushes

are subsequently designed to make the application of paint to these areas easier by either having a conical design (sometimes called a "sash" brush) or

angled

for more precise application along edges. Sash brushes are a more traditional design and take slightly more skill to use efficiently compared to an angled brush

What are bristle brushes used for?

Traditionally

bristle brushes

were, and are still, used for the application of oil-based paints like gloss because of how the natural bristle (hog hair) carried and laid off oily paint. It is only in the last decade that the technology in making synthetic filaments has come on sufficiently to make a satisfactorily performing

synthetic brush

for use in oil-based paint.

What paint brushes are good for decking?

A variety of brushes are great for decking. Ideally a stiffer bristle brush is best for the application. The

Dulux Decorator Centre block brush

would be a good option both for speed and finish.

What is an edging paint brush?

This is an alternative description for a cutting in brush.
Professional paint brushes and rollers for every project
Whether you're tackling your first paint job, working on a single room, or decorating the whole house, you'll want a paint brush set with all the tools you need to get a perfect finish.
We offer professional paint brushes and paint tools to help you paint like a master decorator. Our paint brush sets contain everything you need to tackle all the most common decorating jobs. Pick up a natural bristle brush if you're using solvent-based paints on walls or woodwork. Or, for a nice even finish when you're using water-based paints, check out our range of synthetic paint brushes.
You'll also find the perfect angled paint brush or cutting in brush to help you achieve a true straight edge between your walls, ceilings and skirting board.
If you're taking on a small project – touching up tired paintwork, for example – you'll find we have a wide range of small paint brushes in different thicknesses to help you get the job done perfectly.