Repair Care DRY FLEX 4
DRY FLEX® 4 is an elastic repair compound ideal for the permanent repair of decayed and rotten wood, including windows, doors, fascias/soffits, stairs and furniture.
Permanent, elastic repairs. The cured product accommodates natural movement in the timber.
Can be used all year round.
Once cured, the product can be treated like wood (planed, sawn, nailed, screwed, painted and stained).
Also available in a 2 in1 cartridge that can be used with standard skeleton guns.
Available in: 200ml A /100ml B tube set, 150ml combination tube.
Cuprinol Ultra Tough Wood Filler
A solvent-based, quick drying two-part wood filler. Best used on decayed wood after it has been treated with Cuprinol Ultimate Repair Wood Hardener or alternatively, for any general purpose filling of cracks, splits or nail holes in interior or exterior joinery.
Weather resistant
Hard finish
Easy to sand back
Available in: 250g, 500g, 750g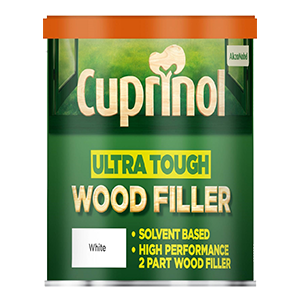 Toupret Exterior Masonry Repair Filler
For use on all rough masonry surfaces; cement, concrete, breeze blocks, bricks and stones. Will fill without shrinking to any depth limit and repair without formwork.
Can be applied to dry or damp masonry
Weather resistant
Shapeable - repair without formwork
Available in: 1.5kg, 5kg, 15kg
Toupret Glazing Putty
A highly flexible putty for use on all types of wood. Will not crack or smear glazing and is water based paint compatible.
Doesn't stick to hands
Compatible with all paints and coatings
Long lasting
Will not smear glazing
Available in: 1kg
Exterior woodcare project solutions