Why Choose Weathershield?

Specially formulated with AkzoNobel technology, our range of Weathershield products provide all the protection you could need against the elements for timber, plastic or metal. Even in the most difficult of climates or the harshest situations, Weathershield speciality paints do exactly what they claim to and shield your exterior from all weather.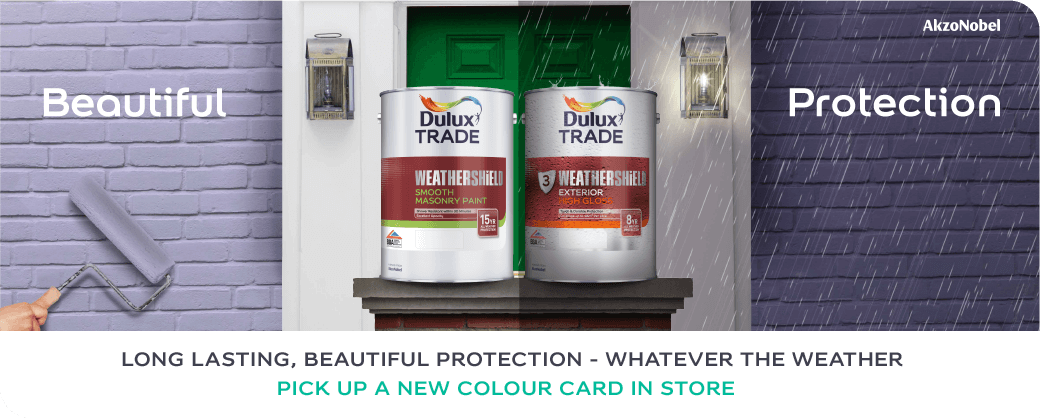 Weathershield products provide instant enhancement to exterior products as well as long, lasting, reliable care, guaranteed to last for years to come. Have peace of mind that investing is Weathershield products is a sound decision.
Never compromising on style or quality
Colour is just as important for exterior products as within the home. Weathershield products don't sacrifice style for great quality care, instead combining colour and durability. With a range of ready mixed colours in neutral and bold shades as well as the option to colour match, you can choose Weathershield paint that completely matches your style.
Here are just a few of the qualities that make Weathershield products the right choice:
Professional standard

AkzoNobel technology

Flexible

Long lasting

Easy to apply

Complete Weathershield colour palette

Quick protection

Excellent opacity

Long lasting guarantees
Weathershield is the answer to all your exterior décor needs. See below for our range of specially formulated solutions that can take on the elements and continue to look great, all while providing superior protection for your exterior masonry, trim and cladding.
Download the Weathershield brochure

Loading