Liverpool Library Restoration
The Picton Reading Room in Liverpool Central Library boasts a magnificent domed ceiling that's wowed visitors for over a century. But having been untouched for two decades, it was in serious need of restoration.
Painting and decorating specialists, Bagnalls, were chosen to carry out the work, and it gave them several logistical challenges.
"We were given a very tight timescale because the library was going to completely closed to the public whilst the works was being done," Joanne Gualda, Group Marketing Director at Bagnalls, explains.
"We also had to be sympathetic to the environment and protect various aspects of the reading room. For example, we had to shield a central light fitting so it didn't get damaged and all the shelves had to be properly protected."
For their stand-out skill in managing such a complex brief, Bagnalls were awarded a Dulux Connect Award for Project Management.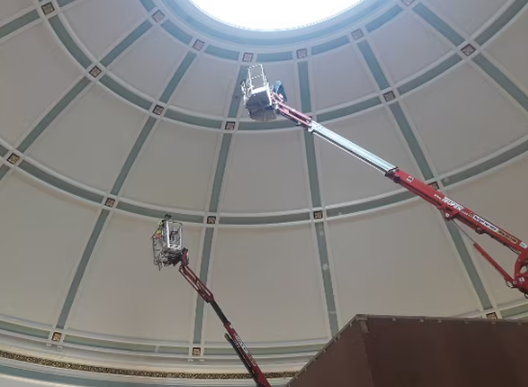 The team of 4 decorators used cherry pickers to ensure they could access high-level surfaces for precise, close-up decorating. To get the machinery into the building, external scaffolding and a crane were erected. This meant the equipment could be lifted onto the library's higher platforms.
Senior Contract Manager at Bagnalls, Bernie Smith, says this was the most challenging aspect of the job.
"We had a crane involved, scaffolding erected outside of the building and road closures in place – logistically it was a nightmare."
The team carried out plaster repairs to ceiling bays before the ceiling and mouldings were spot primed and given two full coats of Dulux Trade Vinyl Matt paint. Dulux Heritage was used as a like-for-like match of colours already on the dome. Colour matching is essential when you're painting a listed building which is why specifying through Dulux Decorator Centre is the perfect match. By extending their working hours, the team finished the job with time to spare - and without compromising on quality.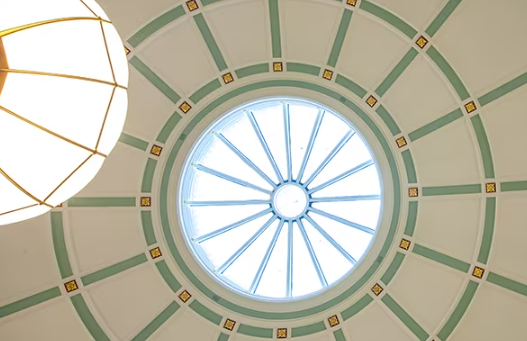 The Manager of the Central Library and Archive was very happy with the result: "The room looks magnificent once again and the work carried out should last for many years to come.
Bagnalls were "delighted" when they found out they had won the Dulux Connect Award for Project Management.
As Joanne said: "The final painting, even though it's beautiful, is almost the easy part for us, so the award for project management is a really nice accolade and something we don't normally get recognised for."
To find out more about Bagnalls, visit:
Dulux Connect
Need help or advice specifying our products?
Contact our team of experts who can guide you through every aspect of paint specification.