We've recently undertaken a historic project, breathing life into Alexandra Palace's old BBC Transmitter Hall.
We teamed up with the Alexandra Park Palace Charitable Trust and other industry partners to bring our expertise, skills and labour in the transformation of the space.
Each week the space is used by hundreds of people including young adults with learning difficulties, mindfulness workshops in partnership with the NHS mental health support and a wellbeing cafe to combat loneliness.
We carefully selected colours which would help people living with dementia to find their way around the old transmitter hall more easily. We wanted the space to feel comfortable and uplifting, especially for young adults with learning difficulties. At the same time, the space needed to have a connection to the outside world – to feel calming and inspiring.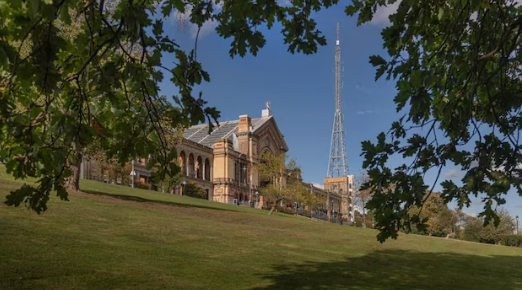 Earthy 'Distant Haze' greens and spiritual 'Niagara Blues' and lilacs from the Dulux Trade range were picked. Points of difference were carefully managed between surfaces and space, not just to make the rooms easier to navigate for people with visual impairment and dementia, but also to meet the requirements of the Equality Act.
We made the space feel more intimate by artificially lowering the ceiling height through clever use of colour and design. The light and airy Dulux Trade 'Adobe Pink' helped create a welcoming space for all the various groups now using the Transmitter Hall.
We also put colour blocks behind the bar area, adding interest and eliminating the mirrors which can stress people with dementia.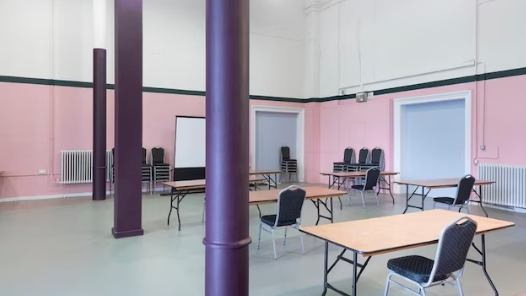 As well as working alongside partner firms, our team enlisted the help of the AkzoNobel Research & Development teams to provide labour on the project. Plus, Dulux Decorator Centre Islington provide workwear and materials to the AkzoNobel 'Let's Colour' team.
Working on research led projects with healthcare specialists and the British Research Establishment, we've gathered a lot of evidence on how colour and design can transform the lives of people living with dementia who use them.
Using our research, the Dulux Trade Commercial Colour Services team designed an inclusive space within Alexandra Palace applying colours that help occupants identify different areas of the entire space more easily. For example, contrasting colours between the doorway and corridor, or clearly signposting staff-only spaces.
We were able to put our knowledge and research regarding using colour to positively impact occupant wellbeing to good use, including aspects of design that are more considerate of vulnerable guests visiting the space. In this way, we're pleased to have contributed to making the Transmitter Hall an inclusive, multi-functional space for many people in the local area.
Products used for the project included Dulux Trade Supermatt on the ceiling, Dulux Trade Diamond Matt on the walls and Dulux Trade Durable Flat Matt on the columns.
Need help or advice specifying our products?
Contact our team of experts who can guide you through every aspect of paint specification.