Dulux Decorator Centre - Paint Specification
A Paint Specification is free when you work with Dulux Decorator Centre and can save you time and money on any decoration project
Request Info
What is a paint specification?
A specification outlines the products and colours that you would want to use on your building. An AkzoNobel specification will clearly explain the required surface preparation and number of coats needed for the chosen product on the given substrate (walls/ceilings/woodwork etc).
A paint specification can save you time & money
Our specification services are free and having one ensures that you and/or your painting contractors have the right guidance on what products you should use. This will then save time & money as following the specification will minimise disruption and downtime and help ensure that the job is done right the first time.

Research has shown where specifications are correct and fit for purpose the risk of experiencing common defects on site are reduced by around 75%. When tendering for work all bidders will be pricing on the same preparation and products detailed in the document.
Getting a specification is easy when you work with Dulux Decorator Centre
We have a number of general specifications that are suitable for most painting jobs. Depending on the size of the project, we can also arrange for a bespoke specification. This will involve one of our Technical Support Manager visiting the site and writing the report.

Depending on the size of the project, we can attend pre-start meetings, offer site support visits during the project and produce post site inspections reports on completion to help ensure the specification is followed.

How do I get more information/request help
Click below, and we'll have a team member contact you with more information.
Request Info
We also offer a range of tools for specification services

Why Specify - A one-page document that highlights the benefits of getting a specification

Wellbeing Pack - Bitesize examples of how paints and coatings can improve building user wellbeing

Sector Brochures - In-depth sector brochures for Education, Healthcare, Leisure etc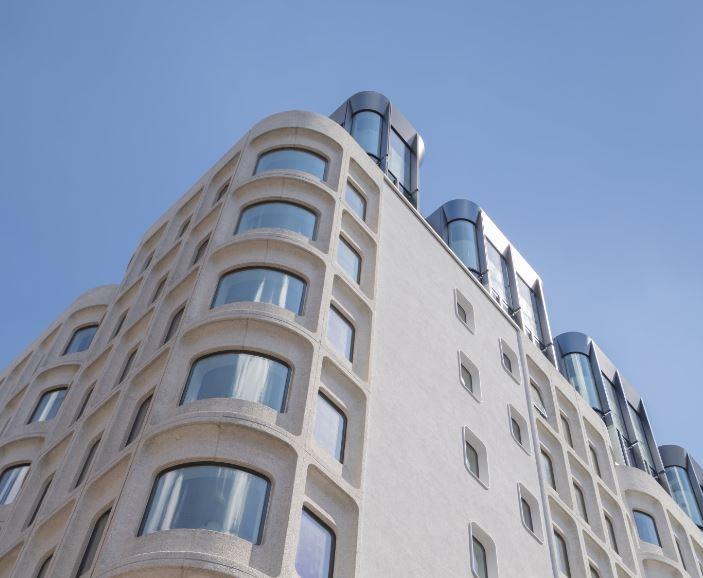 Camden Town Hall transformed into a boutique hotel
The former Camden Council offices have been transformed into a luxury 277 bedroom boutique hotel with the help of Dulux Trade.

Situated opposite St Pancras Station, the iconic building was built in the 1970's by Camden Council's own architects and engineers in the brutalist style. Designed as an office space, the building was used by council staff until 2014, and required extensive renovation and refurbishment to convert the space into a hotel.
READ MORE