Dulux Colour of the Year 2021 is revealed as Brave Ground™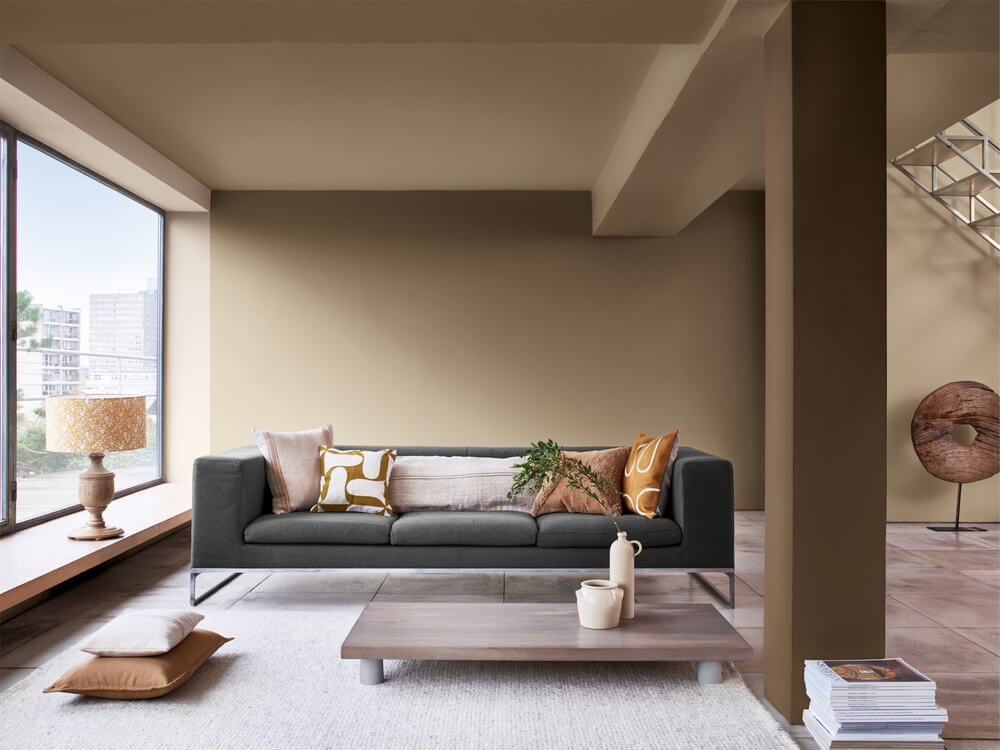 It's here...
Dulux Colour of the Year 2021
is Brave Ground™.
At a time when the world seems unsteady, it's a grounding colour. One that can be a springboard for change in your clients' homes.
Based on our latest trend forecast, this year we're all reassessing what really matters, and we're finding new and positive ways to move forward. It takes courage to embrace change, and our homes can help provide a solid and supportive foundation, as well as giving us the scope to be creative.
The Dulux Colour of the Year, Brave Ground™, is a warm and natural neutral, which will bring a feeling of balance to any room in your client's home. It's an enabling and stabilising colour, and it's also a versatile shade that lets other colours shine.
Brave Ground is supported by four palettes that bring the colour to life: Expressive, Trust, Timeless and Earth. Take a look at how you can use these palettes to help your customers express themselves.
VIEW & PURCHASE COLOURS HERE
These colours echo the tones of the sea, the sky and the soil, connecting the indoor space with the outside world. Bring the outside in with shades like Mysterious Teal and Night Seas, and pair this earthy palette with furniture and accessories that also give as nod to the outside world, such as natural wood, reclaimed furniture and indoor plants.
These stand-out shades and soft neutrals help you create a space that reflects who your client really is. Give them the courage to be individual by pairing the 2021 Colour of the Year with bold pinks and reds from this palette, like Berry Pop, Lost Coral and Terracotta Army. These shades are perfect for adding verve and vitality to any space.
Style the Expressive palette with modern furnishings, graphic patterns and light wood floors for the perfect combination of pops of colour and grounded neutrals.
These earthy tones connect and complement one another, bringing warmth and harmony to the home. The soft browns, greys and neutrals that make up the Trust palette, including Paper Chain, Pressed Putty and Woven Nest, create a warm and welcoming feel. Use them to soften the hard lines of a contemporary room or to add a subtle modern touch to a more traditional space.
Pair these shades with mid-century furniture and rich finishes like copper, marble and velvet.
These contemporary classics are energizing but not overpowering, bringing positivity and balance to any space. Create a relaxed and informal feel in your clients' homes by pairing Dulux's 2021 Colour of the Year, Brave Ground, with this mix of traditional and modern shades of yellow and brown, including Spiced Honey, Shifting Sands, Cherished Gold and Harvest Dusk.
This palette creates a firm foundation for practically any furnishings and works particularly well with natural materials.
Explore the full range of colours in the Colour Futures 2021 range to give your clients the positive change they deserve.
About the Author
Dulux Decorator Centre
DDC
Comments (0)
There are no comments yet.
Write a comment
Tell us what you think about this blog and share your experience with others. Please include only information that is relevant to the blog you are commenting.