The Sandycroft Community Centre in Redditch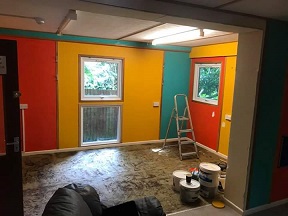 The Sandycroft Community Centre in Redditch is a Charity that supports local people with a variety of needs, they run counselling and training courses and are heavily involved in domestic abuse support and wellbeing support.
Part of their premises was unfortunately badly vandalized leaving one of the buildings unusable.
Through Coventry South Store we, Dulux Decorator Centre donated a number of tins of miss-tint paint and a local support event was held where the community came together to transform the premises and clear the damage.
Lee McKenzie, the Centre Manager, has thanked us profusely and wanted to share how our donation has been used.
Comments (0)
There are no comments yet.
Write a comment
Tell us what you think about this blog and share your experience with others. Please include only information that is relevant to the blog you are commenting.