Can recycling scheme
Helping our customers build environmental credentials.
Save resources and reduce waste with our
can recycling scheme
Our scheme makes it easy to dispose of your empty paint cans in a responsible and sustainable way at our local Dulux Decorator Centre.
Plus for professional decorators, recycling your cans with us can add to your environmental credentials, which in turn could help you win more business.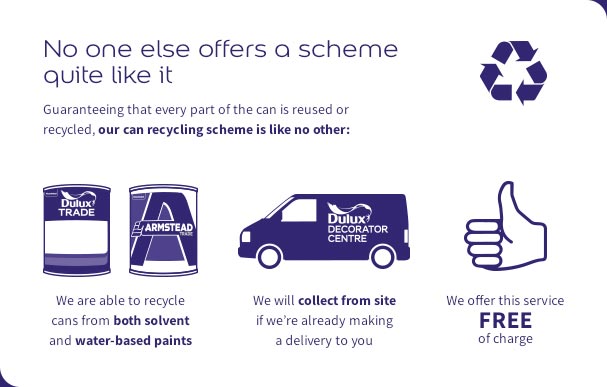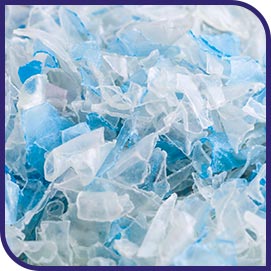 Veolia Partner Plastic Recycling Facility

The plastic will be shredded, washed and sent back into the plastics market. There it will be turned into low-grade plastic products such as underground pipework.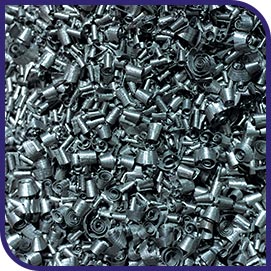 Veolia Partner Metal Recycling Facility

The water -based tins will be washed, and the solvent-based paint will be removed through a thermal process. The metal will then be remelted into new steel and returned to the general market.

Here's how it works


NOTICE: We've updated our Can Recycling process in line with government advice and social distancing rules, to safeguard our customers and our staff. You can read the new process here.
Dulux or Armstead paint cans, Dulux Woodcare, Cuprinol and Sikkens woodcare products and hammerite in metal or plastic cans
Cans that have contained emulsions, gloss paints, undercoats and primers, floor paints, exterior paints and masonry paints
Cans that have contained water-based or solvent-based products
The cans we CAN'T recycle*
Leaking cans or wet paint cans without a lid
Cans that have contained specialist industrial paints and empty aerosol paint cans
Cans containing wood, bricks, stones or other foreign objects
Cuprinol Sprayers, Sprayable plus or Paint Pods with an attached can
Cans with wet paint residue
Competitor cans