Your guide to masonry paint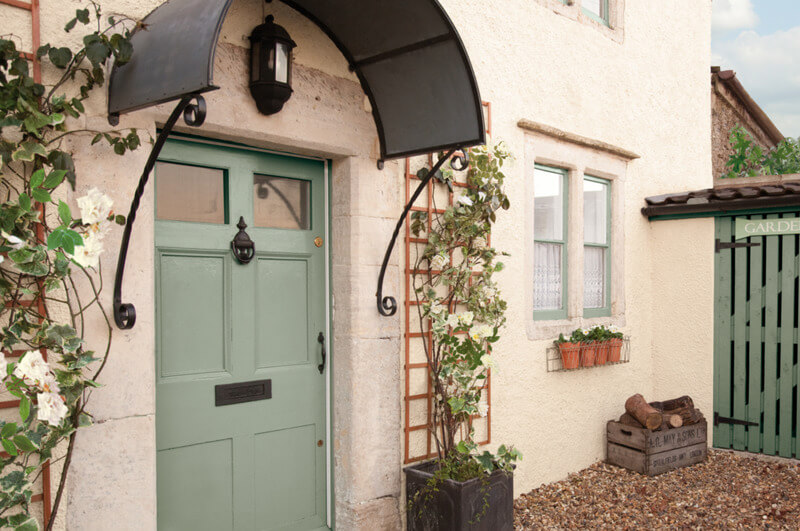 In this quick guide we look to answer some of the simplest questions related to masonry paint and point you in the direction of the right product. Here at Dulux Decorator Centre, we have a lot of industry level knowledge and info, but nothing can ever match the expertise of professional painter and decorator. So, we always recommended consulting one first, especially when it comes to protecting the outside of your home.
What is masonry paint?
Masonry paint is simply paint that's formulated specially for outside of buildings. It's normally designed to bond better with the rough and course surfaces you're likely to find on external properties, unlike the smooth relatively flat surfaces internally.
It's also formulated to withstand the harsh elements the season can throw at it, 365 days a year. Winter means rain and moisture can seep into the cracks of your building, contracting and expanding that can create bigger cracks, flaking and potential long term structural damage.
A good quality masonry paint is a great way to protect the brickwork and beauty of your building for years to come. Not only that, but you're now able to choose from thousands of amazing colours and add some real kerb appeal to your building.
What is the best masonry paint to use?
Theirs two main types of masonry paints, this is important to consider as it relates to how much your masonry is subject to harsh external factors. Luckily, we have a new exterior range that can take care of all your masonry paint needs.
Smooth Masonry Paint
This is paint that is a smooth and an almost velvety consistency, so is quick and easy to apply.
Apart from the fact it only takes roughly two full coats to achieve coverage, it also offers an amazing 15 years of all-weather protection. The normal finishing process is 2 full coats of Weathershield Smooth Masonry Paint, but on previously painted surfaces in good condition, where similar colours are used, 1 coat may be sufficient.
It also contains a fungicide to inhibit mould growth on the paint film and help it stay cleaner for longer. It is particularly suitable for use in changeable weather and is shower resistant within 30 minutes after application.
You can read the full
What Paint? Review here
.
Textured Masonry Paint
This is a much more flexible and forgiving paint, ideal for old buildings that may already have a few blemishes or cracks. This is because the paint can flex and can help 'fill' some of the cracks and dents in the building, completely locking moisture out from causing further damage.
It is also useful in buildings that are far more likely to be exposed to the harsher elements, such as tall, coastal, open and older properties. Also, buildings that are externally finished in roughcast, concrete, stock, facing bricks, sand/cement rendering, pebble-dash also benefit from textured masonry paint.
Like many Zinsser products, AllWeather is an extremely durable paint and gives excellent resistance against cracking, blistering, flaking and protects against rain and other severe weather. AllWeather is also self-priming and will bond to existing paints without sanding so for many refurbishing jobs there is no need to purchase a separate primer.
It is showerproof in 20minutes, and dries in low temperatures so can be used all year round. Also Contains a biocide to protect the dried coating against fungal degradation.
It's also worth noting, our Dulux Trade Weathershield is also available in a textured version, providing the perfect protection with a 10 year all weather guarantee.
---
FAQ
Can I use normal paint outdoors? Using indoor paints externally is best avoided. This is because masonry paint is design to defend against the elements and weather, something that normally isn't taken to account on the side of your building. Given the time and cost of painting the external of your building, it's best doing it with the right product.
Do I need a primer? Sometimes for chalky, flaky and powdery external walls, we would recommend using something like a stabilizing primer to make sure your surface won't create debris when it comes to painting. Stabilizing primer simply coats & set the surface so what paint adheres evenly and avoids paint peeling away once you've given it a coat.
Can I use masonry paint for wood and other external sufaces? Some products can be used on wood and other various surfaces to provide cover. However, we always recommend using an approved trim protection system, like this one we have discussed here.
Comments (0)
There are no comments yet.
Write a comment
Tell us what you think about this blog and share your experience with others. Please include only information that is relevant to the blog you are commenting.